VIRTUAL REPORTS OF SALE AND TEMP TAGS —


TWO OF MANY FEATURES WE HAVE
IN STORE FOR YOU.
DISCOVER THE POWER OF

EFILING
If you haven't been eFiling your deals, you're missing out. eFiling takes all the vehicle, owner and registration info and submits it — instantly and electronically — to California DMV. No more mailing paperwork or visiting a field office. And with the deal information automatically transferred from creating a Virtual Report of Sale and Temp Tag, all that's left for you to do is review using an organized and easily readable form, and then submit.
Vehicle Inquiries at your fingertips
We understand that knowing the complete history of vehicles that come in and out of your dealership is important. With Vitu Temp Tag, it's never been easier to run, print and review reports on vehicles. Take advantage of running KSR (Vehicle Registration Inquiry), NMVTIS and Theft & Lien reports — all with minimal data entry. Additionally, clean and easy-to-read formatting allows you to see the complete picture for a given vehicle — at-a-glance — with important warnings displayed front and center.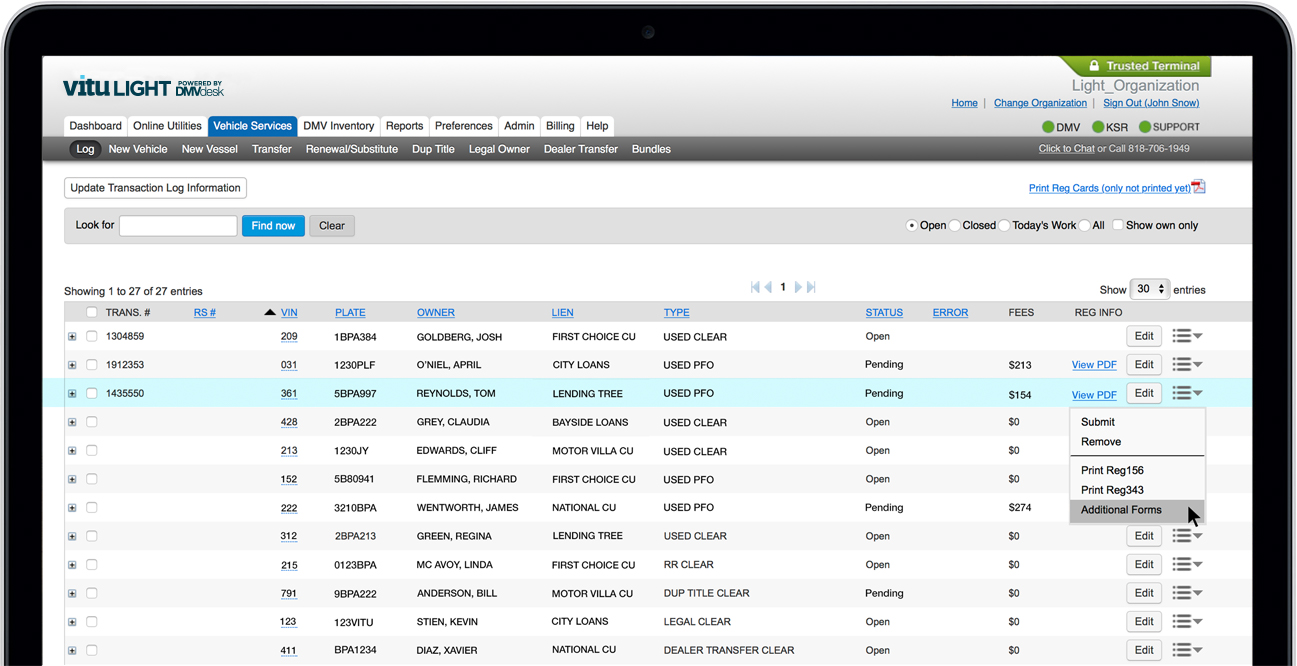 Easy to follow
View where vehicles are in the eFile process on the Vehicle Services Log page — at-a-glance.
Streamlined and convenient
Save time with transferred deal information as well as viewing and editing on a single page.
Double-checked efficiency
Review important eFile information prior to submission to DMV.
Forms you need when you need them
Generate and print any necessary additional DMV forms with just a few clicks.
No more trips to DMV
Send your deal paperwork to us and we'll audit each and every deal. We'll let you know if we find any errors and help you correct them prior to final submission to DMV.
Discover time savings
Imagine the valuable time saved by eliminating manual processes.
DIRECT TO CUSTOMER


REGISTRATION FULFILLMENT.

When you eFile, a whole new level of service opens up to your dealership and your clients. Once your submission is approved by DMV (usually within seconds), our state-of-the-art fulfillment center receives the request and sends indicia directly to your customer — within days.
Participating in BPA saves you time and money
Participating in the BPA program allows your dealership to increase the Document Processing Charge from $65 to $80. Effective January 1, 2019, all BPA participants will be able to raise their Document Processing Charge to $85.